LWZ 370 PLUS
This product is no longer available and replaced with a newer model
You can still access product information and downloads from this page.
Replacement Product: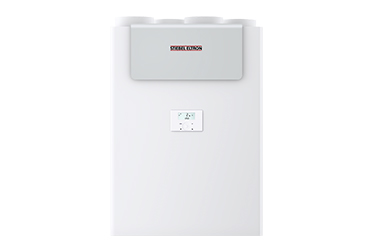 Centralised ventilation with up to 94% heat recovery
Inbuilt display directly on the appliance
Made in Germany
Passive House Institute certified component
Helps prevent condensation and mould through improved ventilation
Significantly reduced noise levels
Air flow rates 60 - 350 m3/h
View LWZ 180 / LWZ 280
Energy efficient with up to 90% heat recovery
Designed for air flow rates of 100-400m3/h
Quiet operation
Low power operation
Replaces indoor air with filtered fresh air from outside
Quick cooling effect via night ventilation function
Pollutants are removed from indoors
Prevents dust and pollen build up
Prevents condensation and mould through improved ventilation
Easily accessible design for filter replacement
FEQ air quality sensor (optional accessory)
Ask Quick Question
Product Overview
The LWZ 370 Plus is the largest of the centralised ventilation systems offered by STIEBEL ELTRON. Designed to deliver air flow rates of 100-400m3/h the great design can recover up to 90% of the indoor heat.
Product Details
The LWZ 370 Plus removes stale air from inside and replaces this with fresh air from outside through its multiple fans. The two air flows are routed through a unique cross current exchanger which effectively recovers up to 90% of the heat. The energy saving design can help reduce heating costs but also provides a healthy indoor air quality by managing humidity as well as reducing pollutants indoors. The ventilation unit has multiple fan settings to create ideal comfort and the settings can be adjusted by a qualified installer to suit your home perfectly.
Technical Data
| | |
| --- | --- |
| Model number | LWZ 370 PLUS |
| Power consumption | 21-213 W |
| Rated voltage | 240 V |
| Air volume flow | 100-400 m3/h |
| IP Rating | IP30 |
| Max ambient temperature | 60°C |
| Filter class | G4 |
| Air duct connection | 180 mm |
| PE condensate drain connection | 32 mm |
| Weight | 38 kg |
| Height | 765 |
| Width | 677 |
| Depth | 567 |
| Sound pressure level (EN 12102) | 54 dB (A) |
Downloads
FAQ
1. What size ventilation system do I require?
The size of ventilation system depends on the size of your home and the required air flow rates that need to be achieved. STIEBEL ELTRON has a specification team that can assist you with the selection of a ventilation system and ducting configuration based on your building plans.
2. What is the ducting connection on an LWZ 370 Plus?
The LWZ 370 Plus has extract and supply air connections of 180mm diameter.